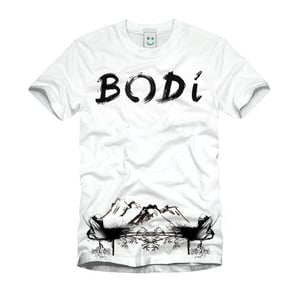 $

17.95
These are the first EVER Bodi T-Shirts. Also comes in black!
Designed by Doctype and pressed by Soul Fur, the black on white design blends a classic Japanese brushstroke style with complex simplicity. The result is a super fresh, unique, zen-like tee.
For a limited time, every Bodi T-Shirt purchase comes with an exclusive download card for a handpicked, 12 track EP spanning Bodi's early career (back when he made music under Alexipharmic). PLUS a free copy of any Alexipharmic album of your choice. Just note it in the order.
And, as always, 50% of the proceeds from this shirt benefit Mercy Corps' life-changing relief efforts around the globe.
Support good music. Support good causes.